Eighty Five countries around the world – amazing. With today's technology in the internet, social media and our smart phones, there are really no large distances between us.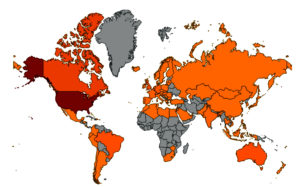 People from all walks of life can learn and advocate for themselves to achieve healing.
After my valley of shadow of death, I can look back and discover silver lining in many of my clouds. Getting to help others advocate and have hope is one of the most amazing ones.
The most clicked on links on my website are still the MOLD – VCS test. Second after that is blogs about CCSVI and the Amethyst Biomat.
Not surprisingly, almost double the referrals into my website came from Google searches instead of Facebook. That is reversed from one year ago. You know what that tells me? There are advocates out there everywhere. It tells me that the map doesn't lie. You are all over the earth searching for answers and working hard for healing.
Look for more book resources in 2017, more new successful trends in healing Lyme and hope filled stories from our audience. My latest project involves getting stories of hope from all over into your hands to cling to on the toughest days.
Thank you for listening to my stories and sharing hope with others in similar journeys. We must spread knowledge and hope. With both of those we are unstoppable.
Blessings and healing in 2017,
Janice Fairbairn – The Lyme Evangelist
softcover book – http://www.amazon.com/author/janicefairbairn
Facebook – https://www.facebook.com/justlivinglikethiswithLYME
Blog – http://justlivinglikethiswithlyme.com/my-blog/
Twitter – https://twitter.com/lymeevangelist
Pintrest – http://www.pinterest.com/jpfairbairn/just-living-like-this-with-lyme/
YouTube – https://www.youtube.com/channel/UCul1VGlVLd6L0IjDwyPCOXg
Tumblr – http://janicelymeevangelist.tumblr.com/
ConnectPal – https://www.connectpal.com/janicefairbairn