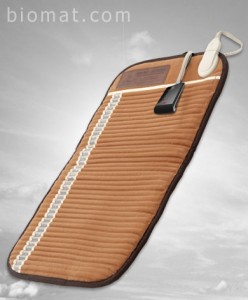 The BioMat Mini is the best money I EVER spent fighting chronic illness. It is more affordable than the full biomat and its perfect for our needs. In fact it is nearly a full size biomat for both my kids. We have used it repeatedly to keep our core body temperature up and to raise the body to a natural fever when fighting any pathogen. It is portable and can be taken on vacations, air travel, and to work.

This was by far the best investment into our health that our family ever made. We use it daily, someone does for aches, pains, detox, fever, etc. We love the ease of use and flexibility for travel.
Benefits of the BioMat:
Reduces stress and fatigue
Relieves anxiety and promotes relaxation
Improves sleep patterns
Reduces inflammation
Eases joint pain and stiffness
Provides warm, soothing pain relief
Eliminates toxins in the body
Increases blood circulation
Alleviates migraines and tension headaches
Reduces allergy symptoms
Improves immune system function
Improves cardiovascular health
Burns calories and controls weight
Improves muscle tone and skin quality
With a BioMat, home consumers can now easily set up their BioMat to self-regulate the temperature and time that works best for each individual in the comfort of their own home delivering deep penetrating results.  All products are medical-quality, FDA-Registered and based on award-winning research.
I am a distributor of the Richway Biomat, so if you are considering buying, please click the link below.